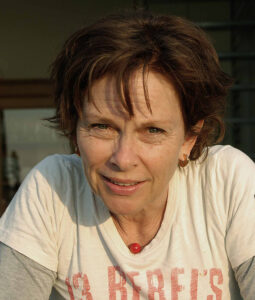 Selected for the Masters Trajectory Drawing 2022-2023 of the
Drawing Inventions Academy (DIA)
About my drawings
I walk up the stairs to the attic. I open the door and suddenly, through the window, a slanted spot of bright sunlight falls on the wall, sharply defined. The center of the spot is a bedside lamp. It is broad daylight and yet for a moment I think: hey, the light is on! Only then do I realize that a lamp never gives such a spot of light, even if it were night. I can't make up an image like this myself.
I start drawing.
What I also want to draw is what it looks like when the lamp is on, at night. Reality then turns out to have a totally different appearance, as I see.
Usually, I choose my cut-out and take a photograph. From this frame I start drawing. Now I can stay in the image as long as I want. How do I articulate the atmosphere in such a way that on the one hand it directly shows the core that so surprised me, but on the other hand it leaves intact the refinement, the subtlety of what I have seen?
They are often fleeting, vulnerable moments that I draw. Moments when reality rises above itself for a moment, so to say.
A pencil is a good medium for me to capture these moments. I can draw hard and soft and everything in between, I can blur and sharpen and everything in between, and I can draw thick and thin and everything in between. The point is refined and close to my hand. There is instant action-reaction, which gives me focus and also peace of mind.
And my drawing with graphite moves slowly. Especially when drawing surfaces, my hand goes carefully and endlessly back and forth, back and forth.
By drawing like this, I can dwell as long as I want in the image that just surprised me, and I turn a fast, sudden moment into slow, lingering time.
By drawing, by using delay, I give mysterious, vulnerable moments a place of honor. A refuge where one can linger as long as is wanted.
If I don't know why I am on earth, I can at least try to discover where I am and what I see *.
Ike
2022
*'Pilgrim at Tinker Creek', Annie Dillard
About Ike
Growing up among her mother's tubes of oil paint, Ike took painting and craft classes and shaped sculptures from the age of six.
In terms of profession, she chooses theater until 2001. She trains actors at the Acting School of the Utrecht School of the Arts.
In 2000 she picks up the line of visual arts in a focused way. After three years of study at the NAU (Nieuwe Akademie Utrecht), she consciously becomes self-taught. She wants to follow her own path and pick classes and artists that inspire her. Since 2016 she is part of a group of artists guided by Maaike Kramer in Zeist, and since 2021 Marisa Rappard guides her individually.